Basset Hound Problem: Dogs Excessive Shedding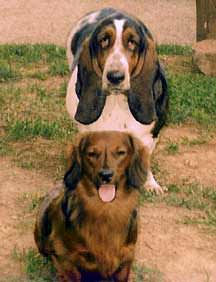 After trying your product on our Basset Hound my husband and I had to send our story in!
We have two dogs, a female basset hound named Sophia and a male long-haired Dachshund named Stitch. Since Stitch is long-haired, you would think that he would shed worse than Sophia, but that has not been the case. Both dogs are about a year and a half old and we've had them since they were eight weeks old.
You barely notice any shedding with Stitch; Sophia, on the other hand, started shedding a couple of months after we got her and hadn't stopped since. It got worse in the fall and again in spring, but she never stopped shedding! I could sweep the floor and the very next day it would look like I hadn't cleaned for weeks! I found your web site and thought it couldn't hurt to try your product so I ordered the treats.
We started giving both of our dogs the Nzymes® Antioxidant Treats as a basic preventative measure since their breeds are both prone to joint health problems.
Within two weeks, there was a HUGE difference in the amount Sophia was shedding. Before, when you would pet her, there would be hair loss came rolling off. But now, (AFTER JUST 2 WEEKS!) you can pet her and only a couple hairs come out! It is so amazing! I've been telling everyone I know about your product! I would have never believed it if I hadn't seen it with my own eyes. Their coats just shine and are so much softer now! Thank you guys so much!
Amy McClister – Somerset, KY
---
Product Used for Shedding Issues with This Basset Hound