Cute Bichon Wins Battle with Dog Hot Spots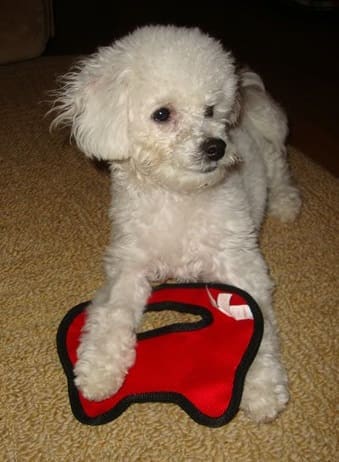 August 20, 2012 – Hello, my dog Lola has had hot spots since she was about 3 months old. The re-occurrence of the spots were about every month. When she would get a hot spot they would appear so fast and get as large as a quarter.
We had spent so much money at the vet getting antibiotics and or shots for her.  She even went to an allergist who put her on a strict sweet potato and venison diet then we paid $500 again later more hot spots. I was getting so frustrated as well as my husband Steve, who treats Lola as his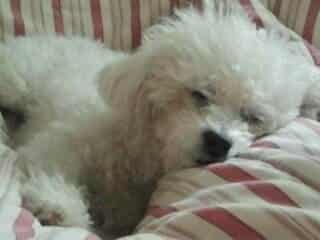 baby puppy.
An acquaintance of ours told us about Nzymes® in February of 2011. I started using it along with the sweet potato diet she had been on from the allergist. After the food trial, I went in and got no potato dog food and went full force on Nzymes® program.
It is now summer of 2012 and her hot spots – when she gets one – is about the size of a pencil eraser and lasts a day.  I cleanse the area daily with the Nzymes® Ox-E-Topical (2% solution), and that is all I need to see an improvement.
Thank you so much for a wonderful product, our dog Lola is a very happy puppy and so are Steve and I.
Sharene and Steve Bloss – Schaumburg, IL
---
A Note from Nzymes:
Hot-Spots in dogs are almost always related to yeast overgrowth; the question is, "How far along has the underlying condition progressed?" In Lola's case, since she had been on multiple rounds of antibiotics/steroids, it was best for her to follow our full Healthy Skin Program to truly find the best answer.
---
Products 'Usually' Recommended for Hot Spots & Related Issues