Nzymes Thanks Ms. Linda Franklin, of FL for entering her sweet Majk (Magic) in our Summer Photo Contest, AND for taking the time to provide this short recovery Story. It helps illustrate our Healthy Skin Program warning: "may get worse before better".
Pet Name:  Majk
Breed:  Pomeranian
Age:  4
Issues:  Hair Loss, Skin discoloring
Majk Welcomes Relief from Hair Loss & Skin Issues
9/24/2018:  Majk started loosing her hair in 2016. In 2017 her hair was gone and her skin started turning black. The vet had no answers except to try melatonin therapy. It did not work. I kept looking for something else to try. I discovered Nzymes (Healthy-Skin Program) in August of 2017. I followed the program and, just as they said, she got worse before she got better.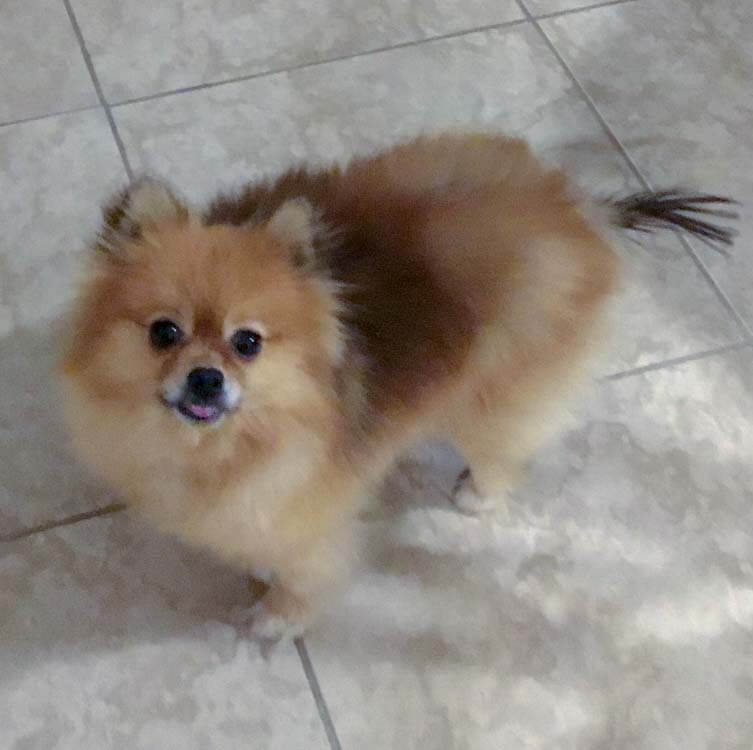 I (next) took her to the vet and was told she had pancreatitis. She was put on a prescription diet (Hills). The food had a lot of ingredients that she was not allowed to have (corn, etc). I emailed Nzymes and ask them what I should do. I got a return email from a very delightful man named Stan. He gave me his personal number and ask me to call after 10:00 central time. I was on the phone with him for about an hour and he went over every aspect of this program. He told me to change her food to senior food because it was lower in fat.
I returned the prescription diet (food) and continued to follow the Program. In December the black skin started to lighten. The vet put her on a low dose of thyroid which Stan had recommended. The vet said it would not hurt her and we could see if it helped. The hair started coming in so fast you could see a difference every day. The next time I took her to the vet they had to check her records to make sure it was the same dog. This product is amazing, but do not expect an over night fix. Majk's hair is back, and it is twice as thick as it was before, and very silky.
Linda Franklin, FL
---
Products Used for Majk Wellness Challenges