Biscut Overcomes Seizures & Shedding, & Lives 19 Years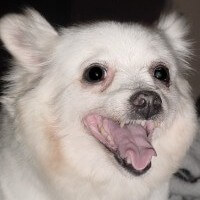 The little dog who started it all
Biscut was a lively and adorable little dog that is remembered fondly by all of us in the Nzymes family. She belonged to my uncle Stan, who along with his brother (and my grandfather) Tom, started this company almost 22 years ago.
She came from a shelter
Stan rescued Biscut from a shelter when he was told she would be put down the next day – she was almost 4 years old. He couldn't resist the little American Eskimo who danced on her back legs when they met – begging for a dog biscuit – and so he named her Biscut and took her home
She began seizing right away
Sadly, her homecoming day was interrupted by 7 seizures. The shelter had not warned Stan about this issue and he was unaware that American Eskimos are prone to developing epileptic seizures between 2 and 5 years old. He took her to the vet and they suggested medications for the seizures but suggested they also could cause long-term side-effects like kidney and liver damage.
Once again, Stan took Biscut home – determined to search for a better treatment option – but he was beside himself every time she had a petit mal seizure which began occurring 3 to 4 times per month…
"I would simply hold her and stroke her neck and talk to her to let her know she was safe and with someone. I really believe this helped her a great deal; however, it always pained me deeply to see her go through these episodes."
Stan was familiar with nutrition
Stan and Tom were working in the health food industry at the time, so he started thinking about the food he was feeding Biscut. It wasn't long before he realized she wasn't getting any real nutrition. He changed her foods and the seizures became less frequent – fewer episodes per month. It was great progress – and it got his wheels turning…
Stan and Tom decided to develop a health supplement for pets that contained live food enzymes – a powerful and key ingredient lacking in most pet foods. Heating food ingredients kill these enzymes and other processes involved in the mass manufacturing of pet foods eliminate these crucial live foods from our pet's diets completely.
The concept of the Antioxidant Treats was born
This idea to make a healthy, live food pet treat eventually became our entire company. But before launching Nzymes, Stan started giving these treats to Biscut every day. One month, two months and then three months went by… without a single seizure!
Biscut lived to a ripe old age
Stan knew that the supplement was healthy for Biscut but he had no idea that it would help her seizures. She lived to be 19.5 years old and had only 1 seizure in the last 8 years of her life. We are so happy to share her story. How love, attention, information and a little innovation changed the painful path she was traveling. We encourage every pet parent who struggles to care for a dog with seizures to try our products. Biscut's story is a testament to the daily need for live enzymes and the value they bring. It is pivotal part of our purpose at Nzymes.COM.
---
Product Recommended for Seizure Support