DOBERMAN DOG finds Help for Wobblers Syndrome
My deaf Doberman, Duke, has had one prior episode of Wobblers syndrome a few months back (2006) in which he exhibited symptoms. After using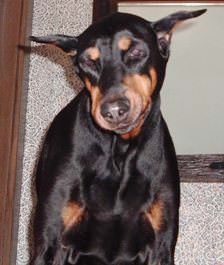 Prednisone for about 7 days, he eventually was back to normal. Then came 2 weeks ago (February 13th, 2007). We had filled up our dogs' food bin (storage bin that holds 50 lbs. of dog food with his dish that locks in the food). Later that night, I took the dish off to give him a little snack, and he proceeded to stick his entire head into the bowl (buried it actually) and inhaled about 1 lb. of dog food!! I pulled him back and he then collapsed in my arms. He wouldn't stand or respond to anything. I then realized he was choking. I stood him up and gave him the Heimlich maneuver (let me tell you…this is the 5th time I have done that with this dog and it works every time! Don't be afraid to try it, people!!). I am not sure if it was me pulling him back or standing him up for the Heimlich, but it was Wobblers all over again.
We had Prednisone left over from the last episode of Wobbler's symptoms, so I called our vet. They suggest we put him on it again, for 5 days this time. So after that ordeal was over, and I knew he was breathing ok, he still wouldn't stand properly. His hind legs were "wobbly" or drunk-like. He would fall if he started to walk, he had no coordination in his hind legs at all, and couldn't stand on his own. My husband brought a spare bed mattress into our living room and we coaxed the dog onto it. He laid down immediately but was growling at our other dogs when they would approach (2 min pins). We kept them away for obvious reasons and I slept in my living room with my dog for a week. While on the mattress, he would drag his back legs if he had to move or adjust. This was NOT like my dog. He was never very agile, always a bit clumsy…but never like this. We had to carry him down 4 stairs to go outside every time and we put him on a leash because of his balance. When he would urinate, I would have to hold his hind legs so he could balance. When off the leash, he would sway and be very wobbly. I don't think my dog himself realized there was anything wrong because he still tried to run in the yard. We kept him on the leash for that reason.
He wouldn't go upstairs to the bedrooms (which he would do by himself frequently). He never came down by himself really because he hates going down. But since this happened, he wouldn't even go up. We knew something had to be done. The next day (2/14) I started researching joint problems like Wobblers and Hip Dysplasia.
I then found the Nzymes® website. At this point, I had been told by my family and friends that it would be "time" to think about euthanasia. I was appalled to be even thinking about it because my dog is my world. He was not yelping or in obvious pain. That would NEVER be an option.
Anyway, I ordered NZYMES® Antioxidant Treats that night and received them the next day. I started him on it on 2/16. He was scheduled to stop the Prednisone on 2/17. That is also when he began taking the Nzymes® Antioxidant Treats. After 3 days of being on this product, we no longer had to put a leash on him to go outside, and he was able to go down those 4 stairs alone and he was no longer unstable. On a side note, we have hardwood floors in our home, recently re-done. We had to cover our entire house with area rugs because Duke had been falling down multiple times a day. The rugs solved the problem, but occasionally he would still slip.
Today is 2/21/07. Duke is now sleeping upstairs again and coming downstairs with a little coaxing, on his own, without a leash. He goes outside without a leash. He HAS NOT FALLEN since he started taking this product!! If he slips, he catches his balance and is fine. Before this, he would fall if he slipped, and 85 lbs. of Doberman would go BOOM!
He is more coordinated now, and when he turns to lay down or to do his business, he doesn't fall. He used to fall while turning around on his dog pillow with a chew toy. He DOESN'T FALL now!! After 4 days of the Nzymes® product, when we took him off the leash for outside purposes, Duke ran!! He ran in our yard (concrete yard) and DIDN'T FALL. I was ready to cry and was sort of chasing him around as if he might fall (like chasing an infant). He did fine. Has since slipped on the ice in the yard (before, he would fall big from this) and has NOT FALLEN!! I have recommended this product to many dog owners and I hope it works for others as it has for Duke. I am TOTALLY amazed at how this product has helped Duke.
UPDATE 5/23/2007: Duke has been on Nzymes® faithfully since the beginning of February when he had a severe Wobbler's episode. Within days of starting Nzymes®, there were HUGE improvements. Now, 3 months later, he is still doing great. He still does not fall anymore and even catches himself when he slips. He can go up and down the stairs on his own without falling. He jumps into bed by himself now instead of me helping him. Until yesterday, he has not had any Wobbler's episodes or symptoms.
Unfortunately, my dog is 100% deaf., so he whacked his head against my knee when I was standing behind him and he turned his head around quickly but didn't know I was there. We both felt it. Sadly, this brought on his Wobbler's symptoms because it affected his neck and spinal areas. Anyway, his right back toes were curled under his foot, he was stiff and rigid. I instantly gave him another helping of his Nzymes® and waited. Another symptom was that he always obsessively licks his front feet after a Wobbler's episode, and that is just what he was doing. Other than that, he has recovered perfectly fine.
He is 100% back to normal (less than 24 hours). It used to take a week of Prednisone for these results. That is why I keep him on Nzymes® every day. IT IS WORTH EVERY PENNY!! So that is my update, he is doing great! I have my "puppy" back. He runs around the house and the yard and does the "play stance" that dogs do, when he lunges his front feet and head down and butt in the air. He is a happy dog! THANK YOU!!
Thank you for saving my best friend!
Gina & Doug Brites
New Bedford, MA.
---
UPDATE 11/30/09:  The worst day of our lives.  Sadly, we had to make that tough decision and put to rest our beloved Sir Duke.
Thanks to Nzymes in 2006, we were able to have him longer than we should have.  Unfortunately, his Wobbler's Syndrome got the best of him and he wasn't able to walk around without my help.  My husband and I are devastated, but we know in our hearts it was the right thing to do before he started to suffer or feel any pain.  We will truly forever miss Duke, he will NEVER be forgotten.  Mommy and Daddy love you, buddy, rest in peace.
Products Used with this Story about Wobblers