Dog Health Challenge:  Stroke Induced Paralysis
In June our 10-year-old Keeshond named Kabuki was rushed to the Vet with a uterine infection and had emergency surgery to remove the uterus before it burst. At the same time, she had a breast tumor removed and all seemed fine after surgery. She was on morphine, and we brought her home couldn't believe she was doing so well. Within 24 hours of the surgery she suffered a stroke in the neck area and was now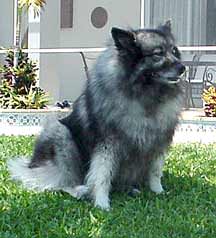 paralyzed (stroke induced paralysis).
We brought her back to the Vet's office, where she was put on blood thinner for a few days. She did not respond well and she was still unable to move. We couldn't stand to see her suffer there, so we brought her to the comfort of her home and were determined to take care of her 24 hours a day feeding her by hand, standing her up to urinate.
In our frantic way to save her, we went on the Internet to search with the keywords "Dogs and strokes" and we found Nzymes.COM. We ordered Nzymes® Antioxidant Treats right away. It seemed like after only a day or two that Kabuki was improving. Every day she got a little stronger. After a month she was nearly back to her old self. She is 12 years old now and is doing very well. She runs along side my bike for exercise. I give the Nzymes® all the credit, along with our love for her.
Nancy and Randy Zukowski – Coral Springs, FL
---
Product Recommended for Dog Paralysis Issues