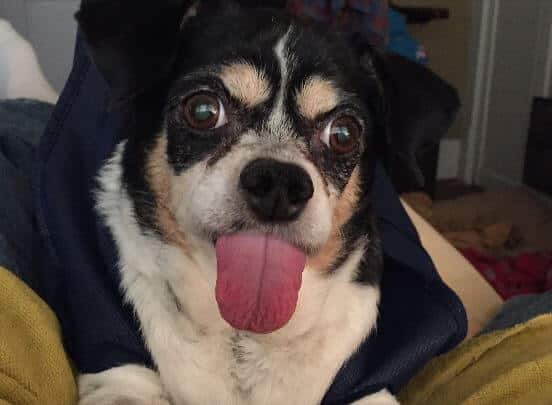 Daisy, our 12-year-old Chi/Rat Terrier, loves nothing more than her daily walks. Second, of course, to her meals.

Early in September Daisy started stumbling and within a few days developed loss of any movement in all 4 legs. She was a limp dishrag. She spent a week at the hospital on i.v. steroids, antibiotics…you name it. X-rays showed her spine was arthritic, leading the vet to suspect nerve damage. His prognosis was grim.

The vet expected Daisy would never have the use of her legs again and would lose good quality of life. We had to take her home, though, because she still had her great attitude and appetite and we just didn't think it was time to let her go.

When we brought her home we began to realize how tough it could be. She couldn't walk. She couldn't sit up without being propped with rolled up towels. We feared that constant lying down would lead to bed sores or pneumonia.

Going online for help we found designs for slings to allow her to stand with support. We made a way to carry her by cutting head and leg holes in cloth grocery bags. This at least allowed us to carry her outside for potty breaks and around the neighborhood for her "walks".

While looking online for additional resources we ran across Nzymes.com. We liked the reviews and decided to try the Treats. We continued to give a very low dose of Prednisone as prescribed by the vet.

During the first week on the Treats, she started to have movement in her back legs and she started using her back legs some on her walks. They progressively became strong enough to support her after 6 weeks or so, but her front legs showed no movement.

Early in December, we noticed Daisy's front shoulders looked like they were moving. After a few more days she began slightly moving her front legs on her walks. She still couldn't stand up though.

Her back legs could support her, but her front legs would buckle at the wrists. After a few more days she began to be able to support herself on all fours and now she can walk, though her front legs are still weak and she stumbles. It's pretty amazing considering she was quadriplegic weeks earlier.

During the whole time, we used the low dose (1.25mg) Prednisone, B vitamin complex shots, and even some home ozone treatments. We feel, however, it was the Nzymes Treats & Granules that made the difference for our beloved little Daisy. She went from a grim prognosis of never being able to walk again to being able to walk well enough to do her "business" outside and to get around the house. She continues to improve and more and more. More of her walking is under her own steam.

We recently bought Nzymes for our daughter's beagle mix and for our mailman's German Shepherd as Christmas gifts.

Thanks, Nzymes.com!
Products Used in this Story