Problem – Loose Stools with Great Dane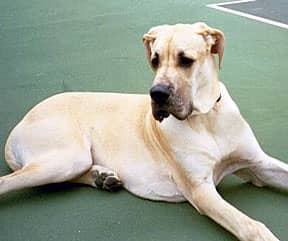 I send out a "Big Thank You" to Lyn Richards at doglogic.com and others of you who reinforced her recommendation of Back to Basics Pet Food and the Nzymes® Antioxidant Treats for Diesel to help with his loose stools issue.
There's not a morning that goes by, as Diesel is crunching his Nzymes® Treat, that I don't marvel at both the extent of the change and how rapidly it occurred. I no longer need to check the scale every week to verify Diesel's weight gain. He's started to fill out and amass some bulk to support his now 33″+ height as he approaches 9 months of age. Overall, there's a visible difference in his energy level, the enthusiasm of his play and the daily "zoomies". We have become so conditioned to worry about his poor digestive health, that we still pay too much attention to it – but now we celebrate how easy it is to scoop! LOL
I was impressed when the Nzymes® company called me and recommended several things but suggested that in addition to the Nzymes® Antioxidant Treats that I give Diesel Nzymes® Ox-E-Drops to help support good digestive health. I'd been giving Diesel pumpkin to settle his stomach, but I stopped before starting him on the new regimen of Nzymes® Antioxidant Treats and Nzymes® Ox-E-Drops. So, I was able to give these new products full credit for any changes. Within a couple of days, his stool changed dramatically. True to all the documentation about the products.
Again, thanks to everyone and for those of you who are dealing with digestive health problems.
I'm not being paid or compensated in any way for this endorsement!
J. Kafka Smith – Elkridge, MD.
Products Recommended for Dogs Loose Stools / Digestive Health
Nzymes 3-Pak Kits