Health Problem:  Eating/Digestive Disorder, Coprophagia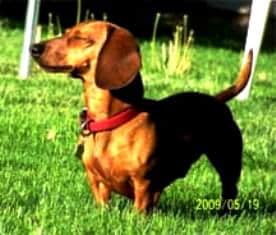 Biggles was 2 years old when I adopted him from a shelter. There was a connection made when we saw each other and I believed he would be a great friend. I started him on Bifidus, a probiotic, and It took 3 weeks before be stopped going poo in the middle of the day. Also, he looked for the excrement from my female Dachshund (coprophagia concern) as he had been eating garbage to survive when he was lost. He had his days and nights mixed up too. I continued with the Bifidus in his food from a local pet store for 1 year but he just wasn't satisfied.
I take supplements and was looking for help for him and found "Linda Arndt", the Great Dane Lady, while browsing the Internet. This was the beginning of his recovery and 2 years later Biggles is a wonderful healthy Dachshund. From the Great Dane Lady, I found "Kringles Korner" natural pet food store. They give you several samples bags and Biggles liked the smoked salmon best
My sister told me about Nzymes.COM and now I use their Nzymes® Antioxidant Treats and Bac-Pak Plus probiotics. It was 2 long years, but well worth it. Biggles tries the hardest to please. Just recently he jumps in my lap to say "thank you" after each dinner AND he is SATISFIED now. When he hears the fridge door open he "says" I'm over here on the couch and if you want I'll take a snack but I don't need any because my food is so satisfying!
S. Crain – ID
---
Products Recommended with Coprophagia in Dogs